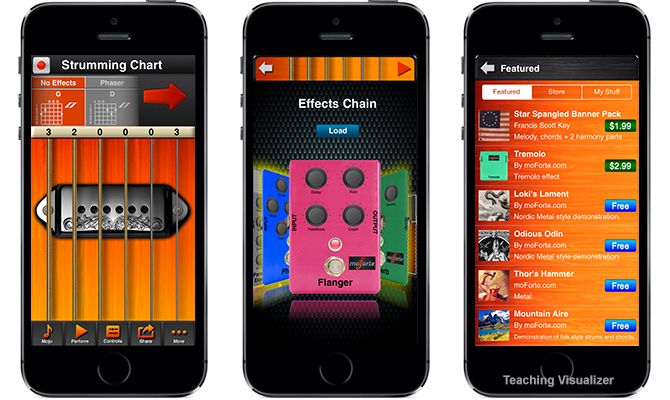 moForte Guitar is a virtual guitar for iOS devices based on modeling the physics and performance techniques of the guitar.
Because moForte Guitar is modeled, rather than based on playing back samples, the performance experience is uniquely expressive and interactive.
moForte has developed a unique "conduct and express" performance metaphor that enables everyone to experience performing the guitar. The performance experience has been transformed into a to a small number of gestures:
tap/hold (for electric lead "PowerChording")
swiping (for strumming)
rotations for expression
With moForte Guitar you can:
Play it as an alternative musical instrument
Use it for accompaniment
Create your own charts
Or … you can just blow away your friends
---
Features include:
Modeled feedback and distortion like a real metal guitar.
Strumming and PowerChord modes.
A selection of models for popular types of electric guitars.
10,000+ chords.
Powerful authoring tool for chart creation – supports custom chords and effect presets.
Modeled guitar articulations including: harmonics, pinch harmonics, slides, palm muting, string scraping, damping and auto-strum.
Fully programmable effects chain including: distortion, compression, wah, auto wah, 4-band parametric EQ, phaser, flanger, reverb and amplifier.
For iPhone 4s or better and iPad 2 or better.
---